Telefon GSM dla seniora Kruger&Matz Simple 930
Shipping within

24 hours

Shipping price

The Lack Of

The Availability Of

352

opak

The Weight Of The

0.25 kg
| | |
| --- | --- |
| The bar code | |
| EAN | 5901890098250 |
Zamówienie telefoniczne: +48 793 313 936
Description

Reviews & ratings (0)

Ask a question
---------------
GŁÓWNE PARAMETRY
---------------
Ekran główny: 2,4"
Ekran dodatkowy: 1,77"
Rozdzielczość ekranu głównego: 240 x 320 px
Rozdzielczość ekranu dodatkowego: 128 x 160 px
Aparat: 0,3 Mpx
Pamięć wewnętrzna: 32 MB
Slot na kartę microSD (maks. 8 GB)
Obsługa 2 kart SIM
Bluetooth 2.0
Częstotliwość pracy: 2G GSM 850/900/1800/1900MHz
Czas rozmów: do 5 godz.
Czas czuwania: do 300 godz.
Bateria: Li-Ion 1000 mAh
Języki: Polski, Angielski, Czeski, Rumuński, Niemiecki, Grecki
Ładowarka sieciowa:
Wejście: 100 - 240 V; 50/60 Hz
Wyjście: 5 V / 500 mA
Waga: 98 g (z baterią)
Wymiary przy zamkniętej klapce: 109 x 52 x 20 mm
Wymiary przy otwartej klapce: 196 x 52 x 20 mm
W zestawie: stacja dokująca, ładowarka, instrukcja obsługi
---------------
FUNKCJE
---------------
Wibracja
Rejestr połączeń
Funkcja głośnomówiąca
Wiadomości SMS
Odtwarzacz MP3
Odtwarzacz wideo
Radio FM
Dyktafon
Latarka
Budzik
Kalkulator
Przycisk SOS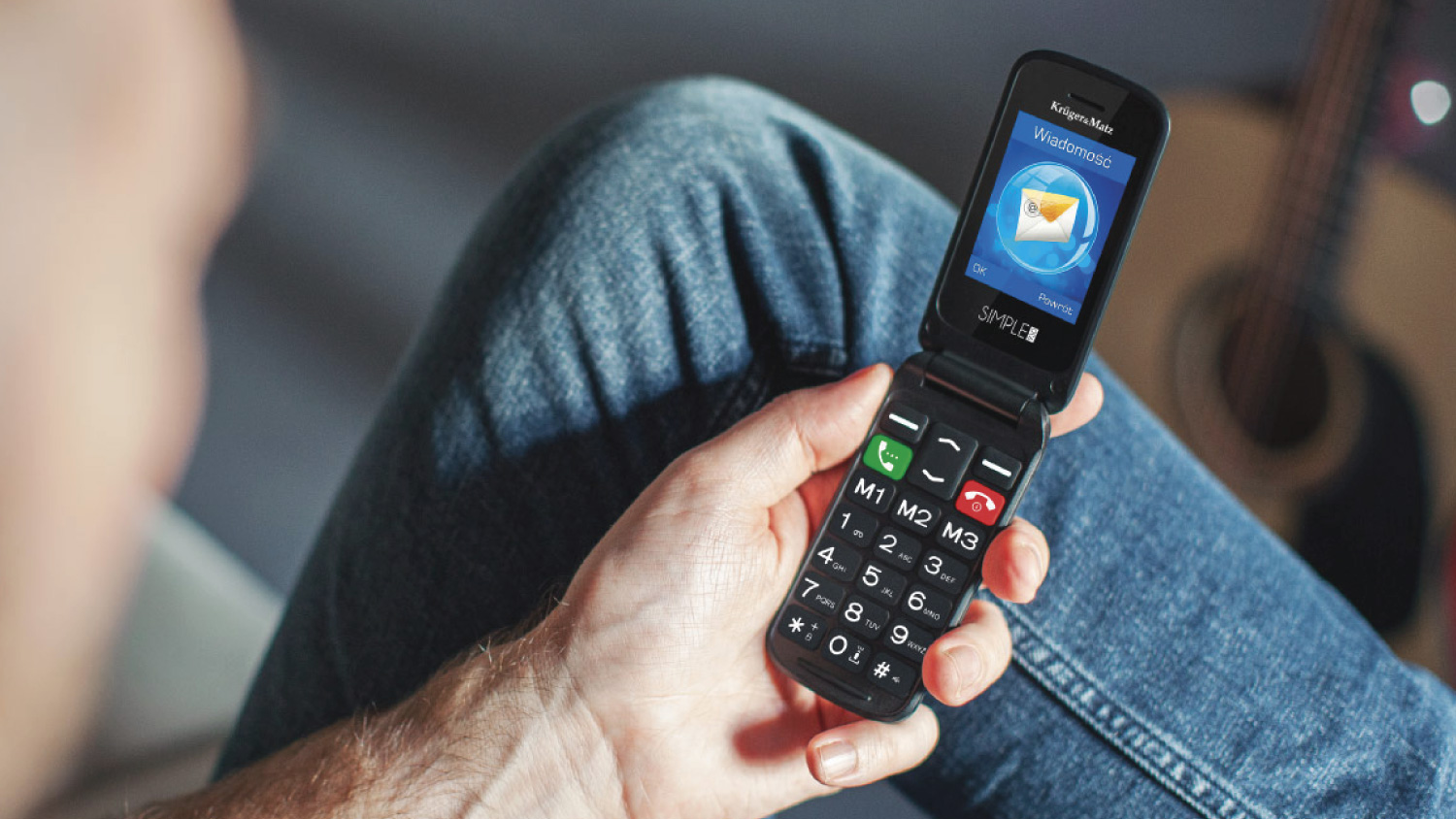 Telefon z klapką dla seniora Kruger&Matz Simple 930
Urządzenia Kruger&Matz są tworzone tak, aby sprostać oczekiwaniom wszystkich użytkowników, niezależnie od wieku. Dlatego też w ofercie znaleźć można telefony dla seniora. Poznaj Kruger&Matz Simple 930.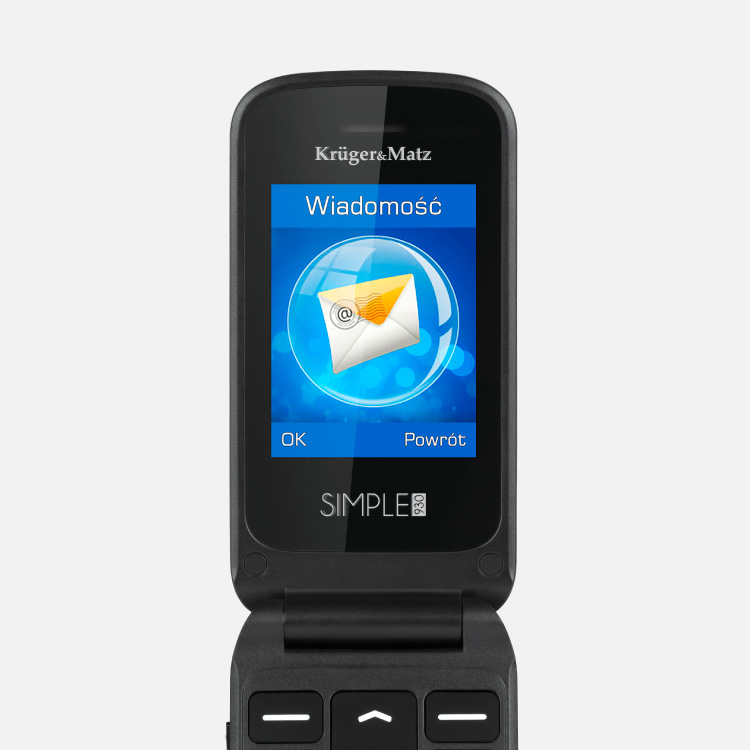 Łatwa obsługa
Mając na uwadze, że w telefonie dla starszej osoby najważniejszy jest komfort użytkowania, Kruger&Matz Simple 930 posiada duże, czytelne przyciski, dzięki którym bez problemu można poruszać się po intuicyjnym menu. Komfort obsługi zwiększa także czytelny wyświetlacz 2,4".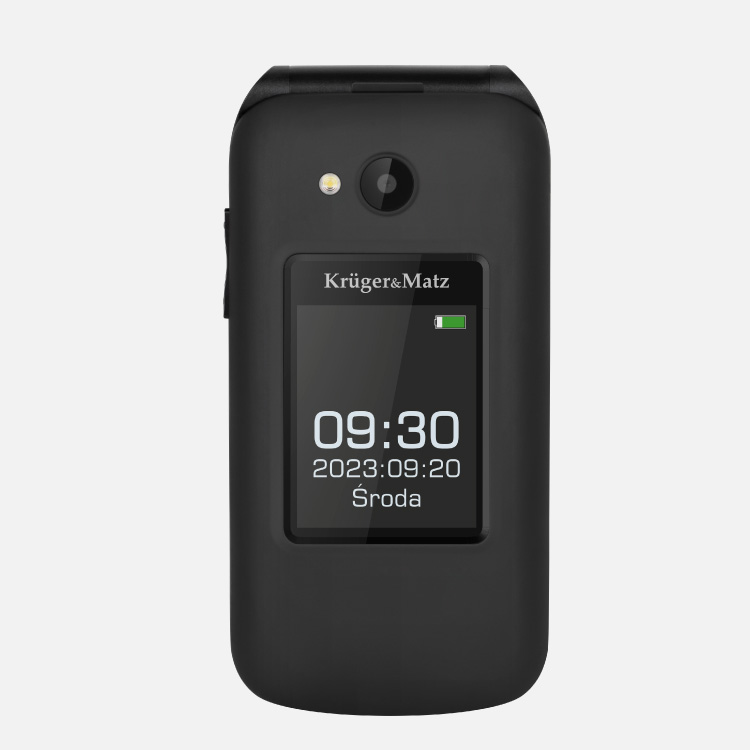 Drugi wyświetlacz
Telefon dla seniora Simple 930 posiada także umieszczony na obudowie zewnętrzny wyświetlacz 1,77 cala. To rozwiązanie ułatwia obsługę np. sprawdzanie godziny oraz identyfikację połączenia, bez konieczności otwierania klapki.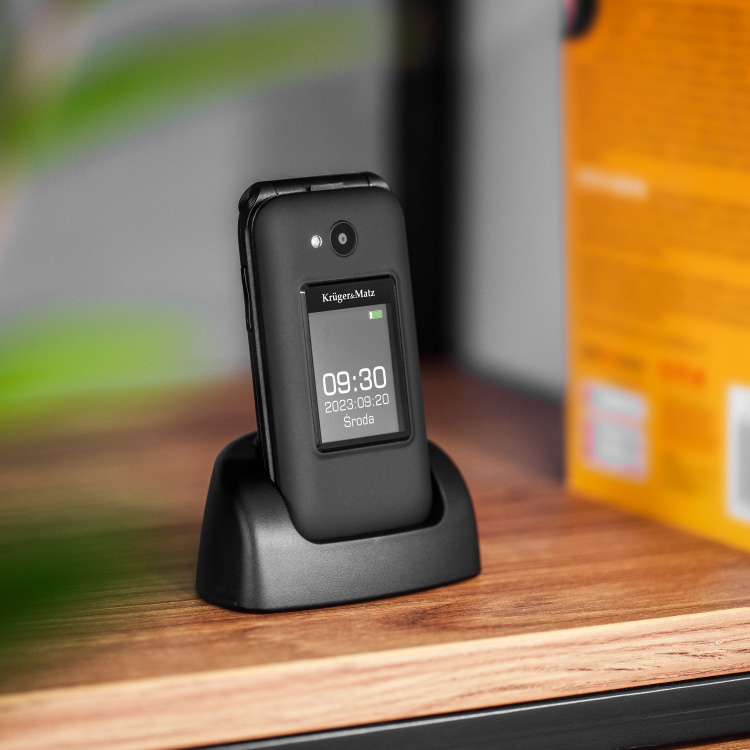 Stacja ładowania
Ładowanie telefonu Simple 930 jest bardzo wygodne, ponieważ nie musisz za każdym razem podłączać kabla ładującego. Wystarczy odłożyć urządzenie do dołączonej do zestawu stacji dokującej, a zawsze będzie gotowe do użycia.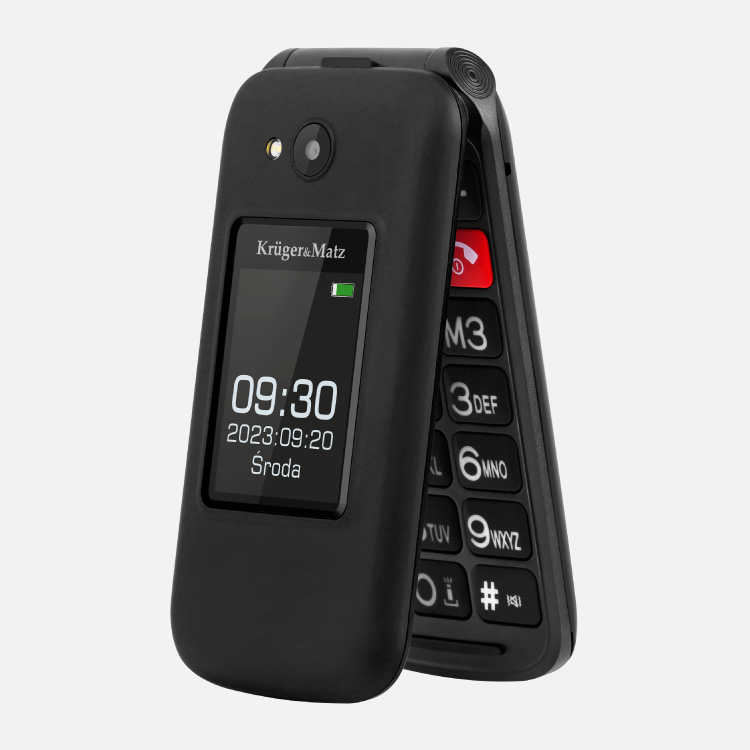 Pojemna bateria
Komórki dla starszych osób muszą być niezawodne w każdej sytuacji. Dlatego powinny być wyposażone w naprawdę duży akumulator. To, co wyróżnia telefon dla seniorów Simple 930, to brak konieczności częstego ładowania – bateria o pojemności 1000 mAh wystarcza na ok. 5 godzin rozmów lub do 300 godzin pracy w trybie czuwania.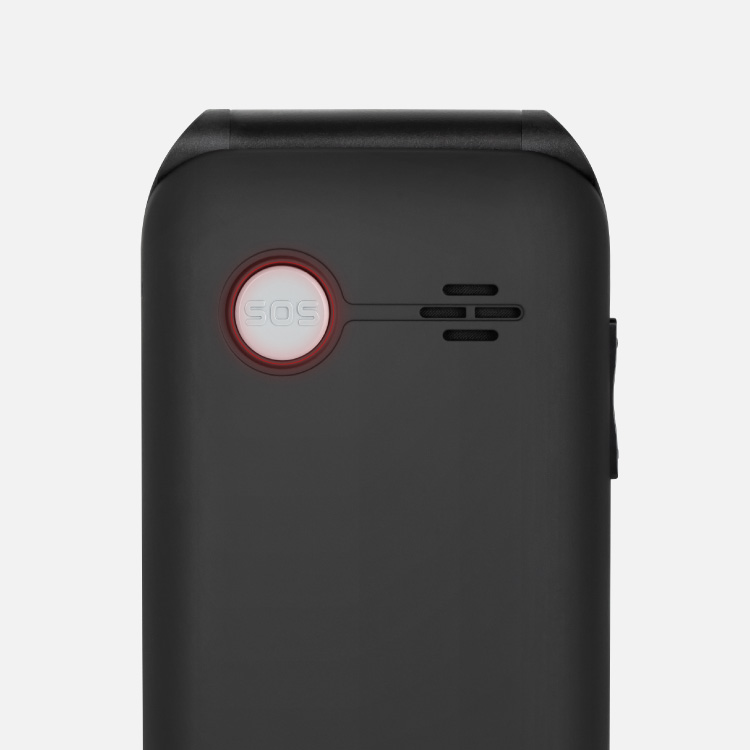 Przycisk SOS
Najlepszy telefon dla seniora, to taki, który oprócz funkcjonalności i wygody, będzie dawał poczucie bezpieczeństwa. Simple 930 posiada przycisk SOS, który umożliwia szybki kontakt z bliskimi. Wystarczy jedno kliknięcie, aby urządzenie najpierw wysłało wiadomości do wybranych osób, a następnie kolejno do nich zadzwoniło. Idealne rozwiązanie, gdy potrzebna jest natychmiastowa pomoc.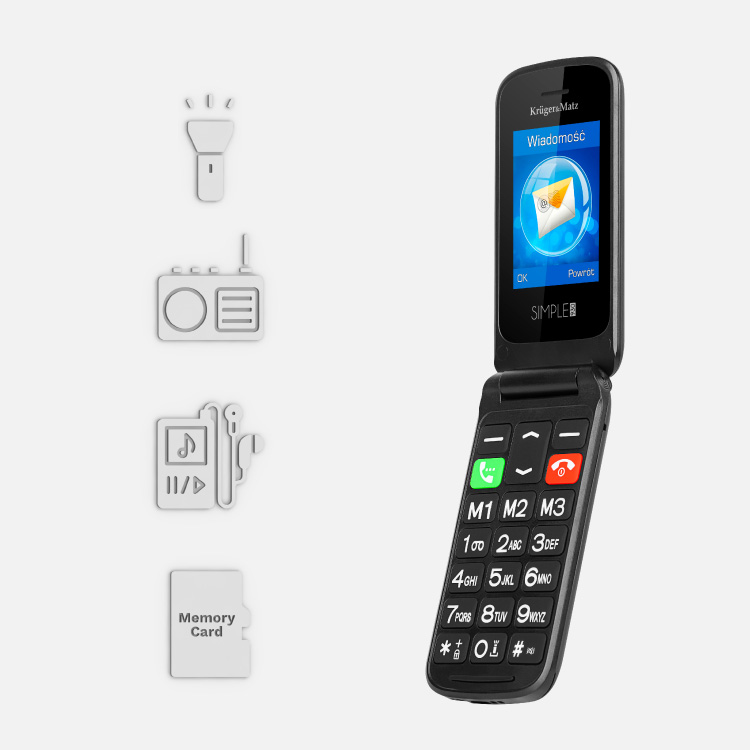 Dodatkowe funkcje
Telefon komórkowy z klapką Simple 930 posiada również szereg funkcji dodatkowych. Wśród nich warto zwrócić uwagę na wbudowane radio oraz odtwarzacz mp3, które zapewnią stały dostęp do najświeższych informacji oraz muzyki zapisanej na karcie micro SD. Aktywne osoby mogą skorzystać z bardziej zaawansowanych funkcji, np. opcji dual SIM.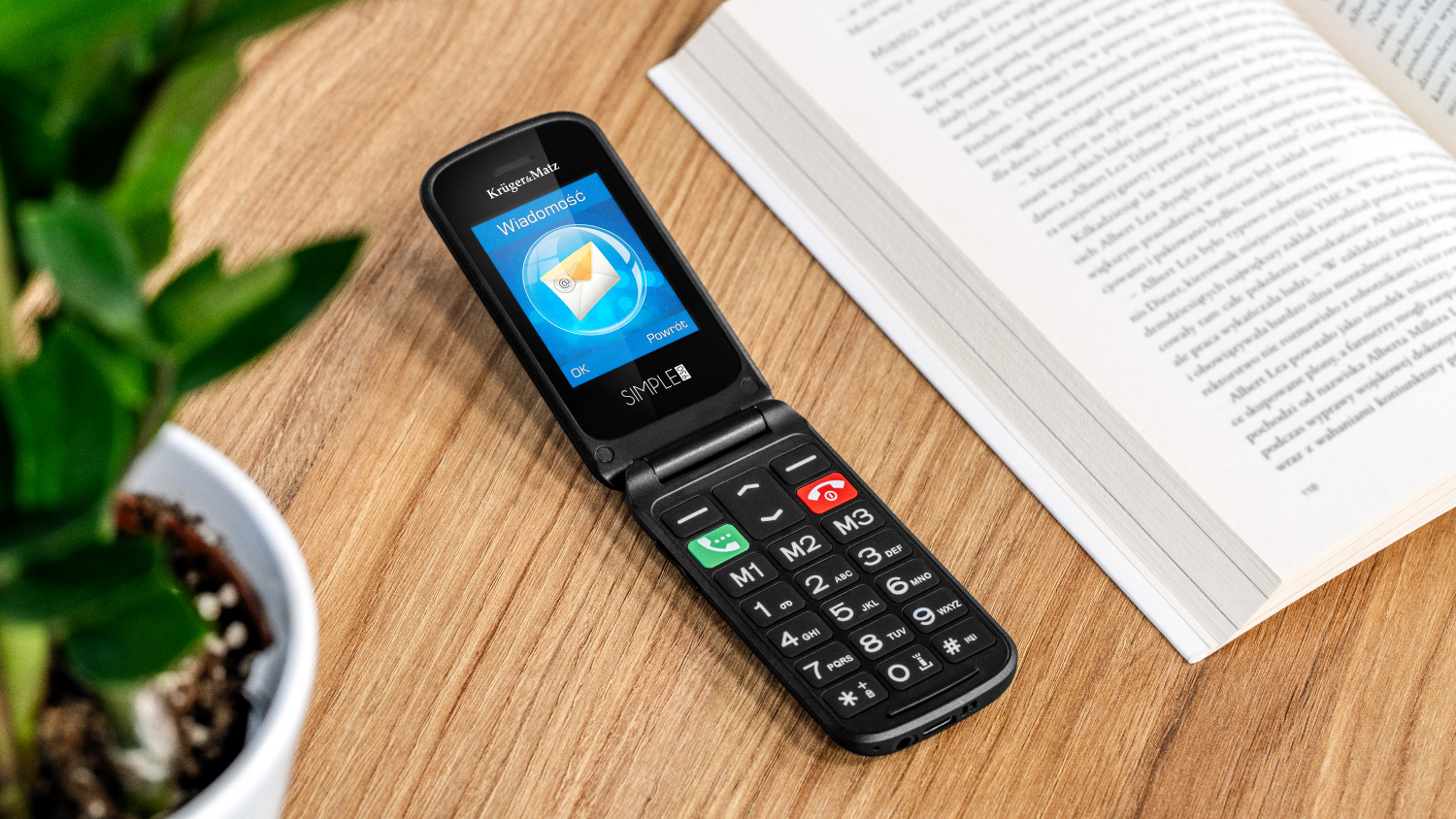 Plik: Instrukcja obsługi
There is currently no comments or ratings for this product.