Soundbar Kruger&Matz Odyssey 5.1.2 CH Dolby Atmos
Delivery time to

3 days

Shipping price

The Lack Of

The Availability Of

0

opak

The Weight Of The

15.5 kg
| | |
| --- | --- |
| The bar code | |
| EAN | 5901890038447 |
Zamówienie telefoniczne: +48 793 313 936
Description

Reviews & ratings (0)

Ask a question
----------
OGÓLNE
----------
Technologia dźwięku: Dolby Atmos
Bluetooth: 4.2
Zasięg Bluetooth: do 8 m
Pasmo komunikacji: 2402 ~ 2480 MHz
Maks. moc nadawania: < 5 dBm
Wejścia/wyjścia: 2x wejście HDMI, wyjście HDMI 2w1 (CEC / eARC / HDCP2.3), wejście optyczne, wejście coaxial, port USB, AUX-in (Jack 3,5 mm)
Ładowanie urządzeń zewnętrznych: tak (5 V; 0,5 A)
Obsługiwane formaty: A2DP, AVRCP
Montaż: Możliwość montażu na ścianie
----------
SOUNDBAR
----------
Typ: aktywny
Głośniki
- Centralny: 2x 2", 50 W RMS, 4 Ohm
- Lewy: 2", 25 W RMS, 8 Ohm
- Prawy: 2", 25 W RMS, 8 Ohm
- Górny lewy: 2"+20 mm, 25 W RMS, 8 Ohm
- Górny prawy: 2"+20 mm, 25 W RMS, 8 Ohm
- Boczny lewy: 2", 25 W RMS, 8 Ohm
- Boczny prawy: 2", 25 W RMS, 8 Ohm
Pasmo przenoszenia: 120 Hz - 20 kHz
THD: 10%
Czułość wejściowa audio: 700 mV
Stosunek S/N: 70 dB
Pobór mocy w trybie standby: <0,5 W
Zasilanie: 220-240 V; 50/60 Hz; 3 A
Wymiary: 1198x73x110 mm
Waga: 4 kg
----------
SUBWOOFER
----------
Typ: aktywny
Głośnik: 8", 180 W RMS, 3 Ohm
Pasmo przenoszenia: 40 Hz - 120 Hz
THD: 10%
Pasmo komunikacji: 2400 ~ 2483 MHz
Maks. moc nadawania: < 10 dBm
Zasilanie: 220-240 V; 50/60 Hz; 3 A
Wymiary: 240x420x240 mm
Waga: 5,25 kg
----------
PILOT
----------
Zasięg: do 6 m
Kąt: 30°
Zasilanie: 2x AAA
----------
W ZESTAWIE
----------
Soundbar
Subwoofer
Pilot zdalnego sterowania
Zasilacz (do soundbara)
Przewód zasilający (do subwoofera)
Przewód audio (Jack 3,5 mm - Jack 3,5 mm)
Przewód HDMI
Akcesoria montażowe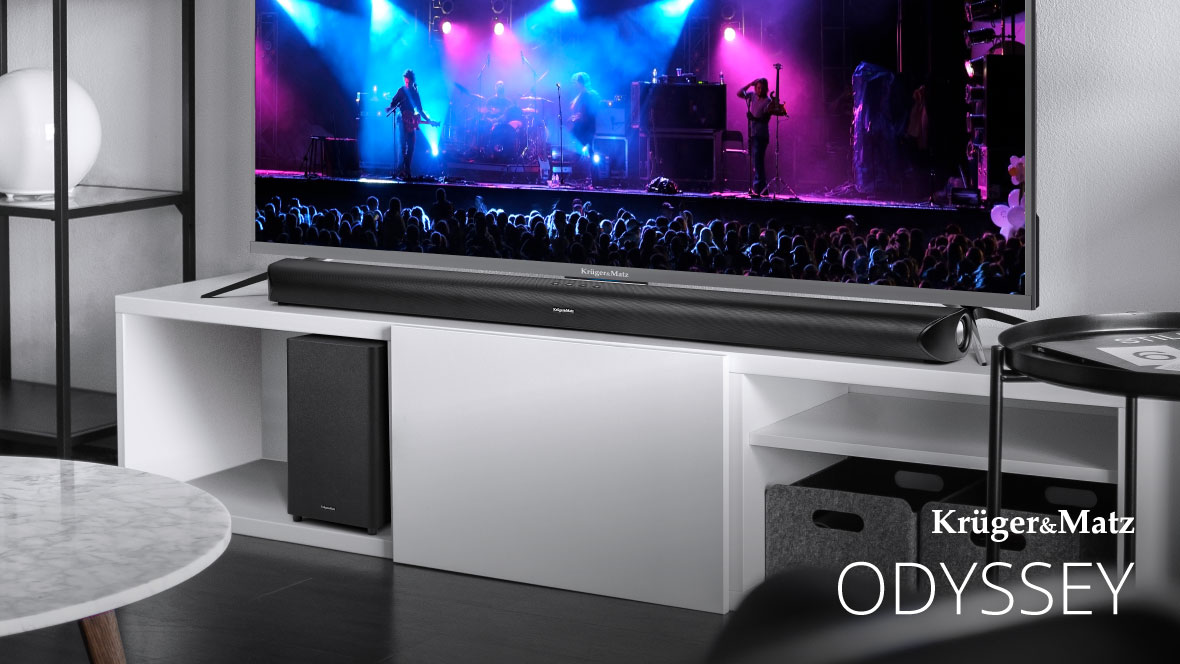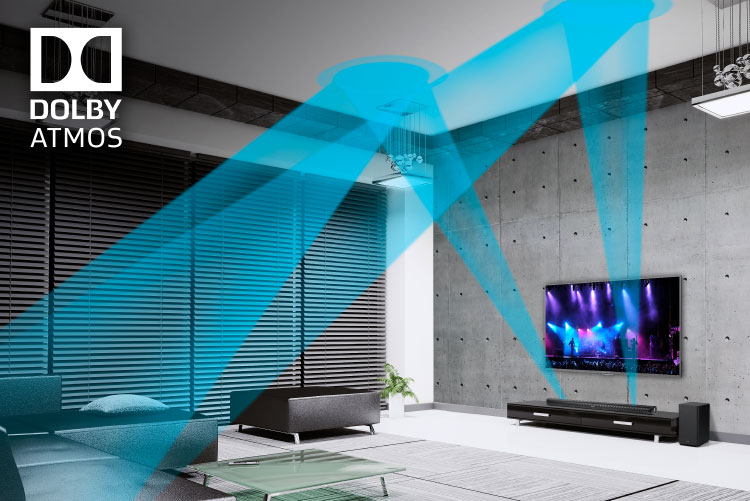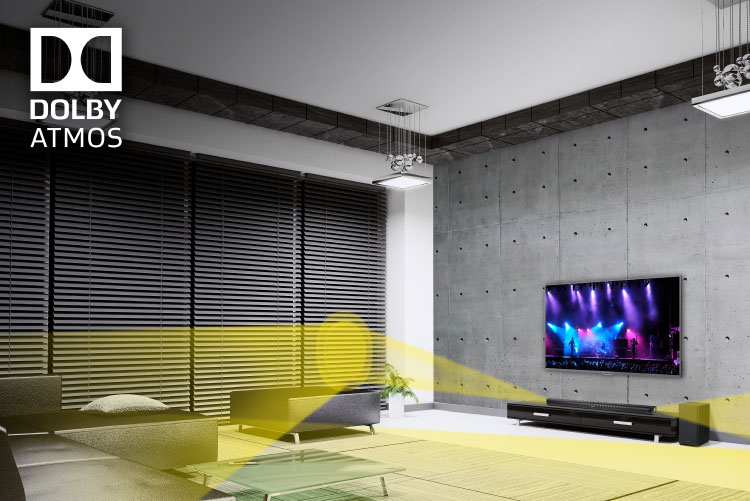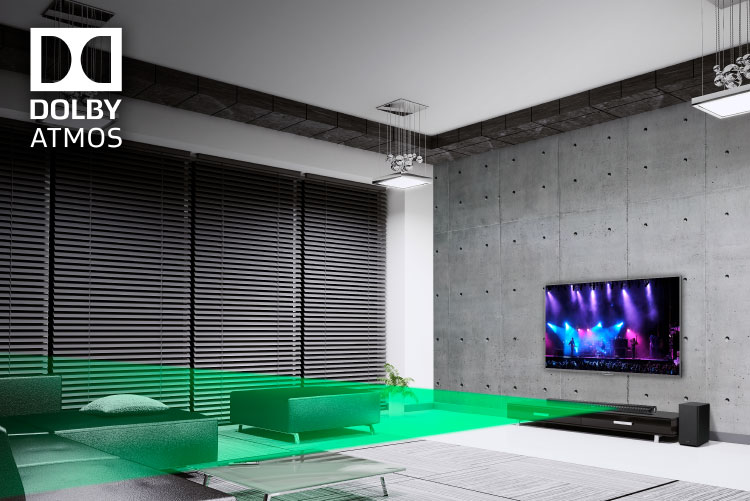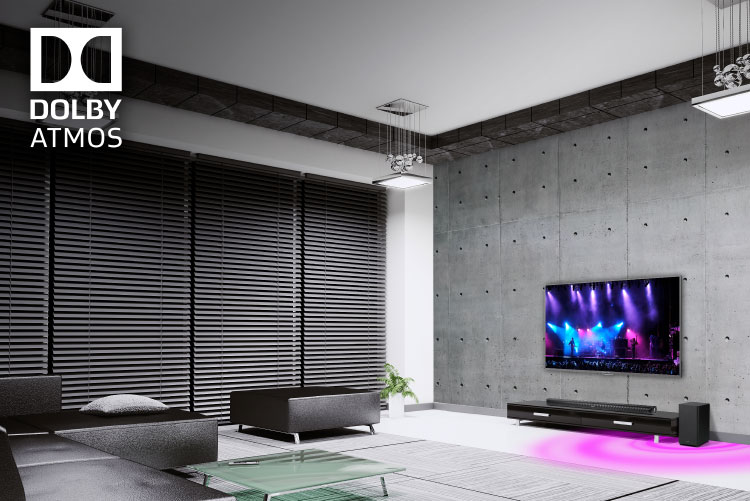 Kinowa technologia
Soundbar Kruger&Matz Odyssey otwiera przed Tobą drzwi do zupełnie nowego wymiaru brzmienia. Wszystko dzięki wykorzystaniu technologii Dolby Atmos, w której dźwięk będzie docierał do Ciebie także z góry. Teraz masz szansę poczuć się jakbyś był w samym środku akcji.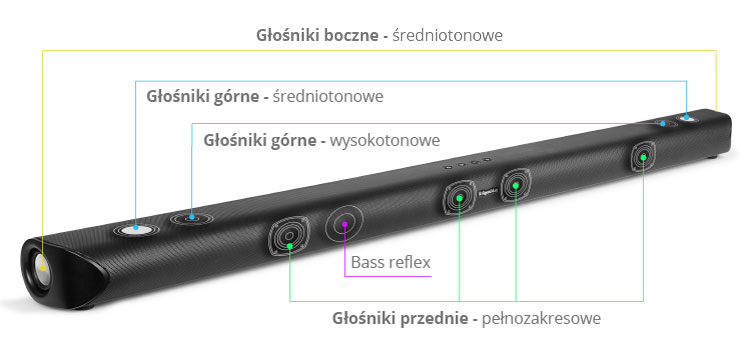 Głębia dźwięku
Chcesz poczuć prawdziwą głębie brzmienia? Soundbar Kruger&Matz Odyssey posiada aż 10 głośników, które odtworzą dźwięki w pasmie przenoszenia 120 – 20 000 Hz, pozwalając Ci usłyszeć detale, na które nigdy wcześniej nie zwracałeś uwagi.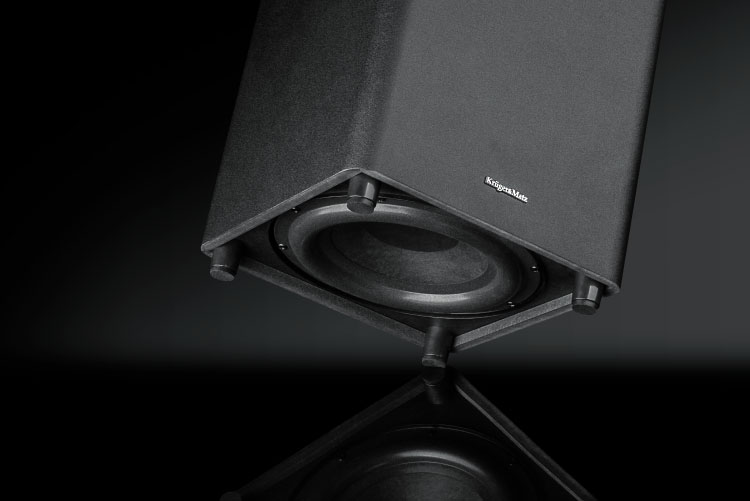 Więcej mocy
Potrzebujesz naprawdę sporej dawki basu? W zestawie Odyssey znalazł się aktywny 8-calowy subwoofer, który zapewni brzmieniu dynamikę oraz głębię. Co ważne jego bezprzewodowa technologia pozwala na szybkie sparowanie z sounbarem, gwarantując estetykę i swobodę ustawienia urządzeń w Twoim domu.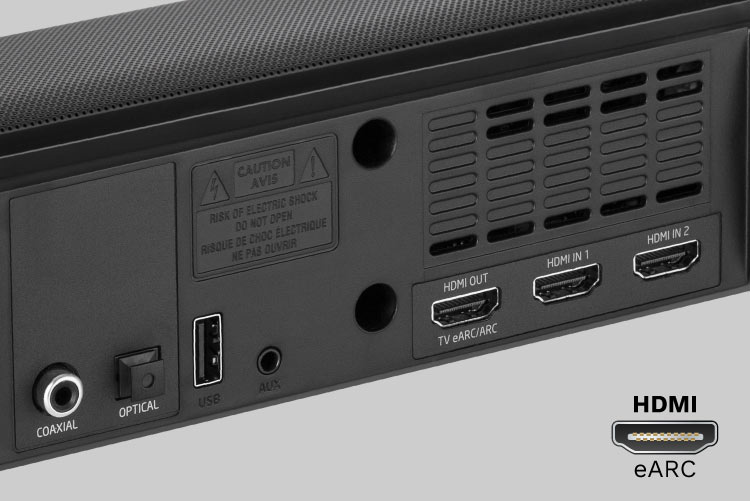 Szeroka funkcjonalność
Odyssey 5.1 został wyposażony w szereg portów, pozwalających m.in. na odtwarzanie muzyki z urządzeń mobilnych czy pendrive'a. Co więcej, urządzenie posiada także port HDMI eARC, który umożliwia obsługę sygnałów wysokiej rozdzielczości, w tym Dolby Atmos.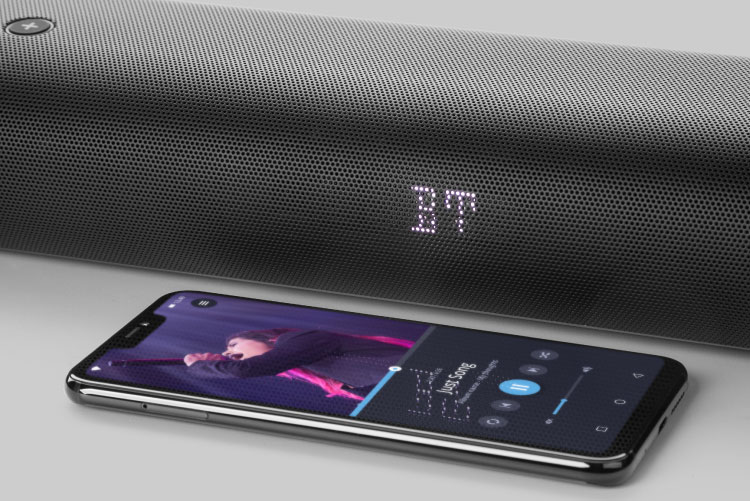 Bezprzewodowa łączność
Poczuj swobodę, którą gwarantuje Kruger&Matz Odyssey. Soundbar został wyposażony w funkcję Bluetooth, dzięki której możesz odtwarzać swoje ulubione melodie z urządzeń mobilnych, takich jak smartfony czy tablety, bez potrzeby używania dodatkowych kabli.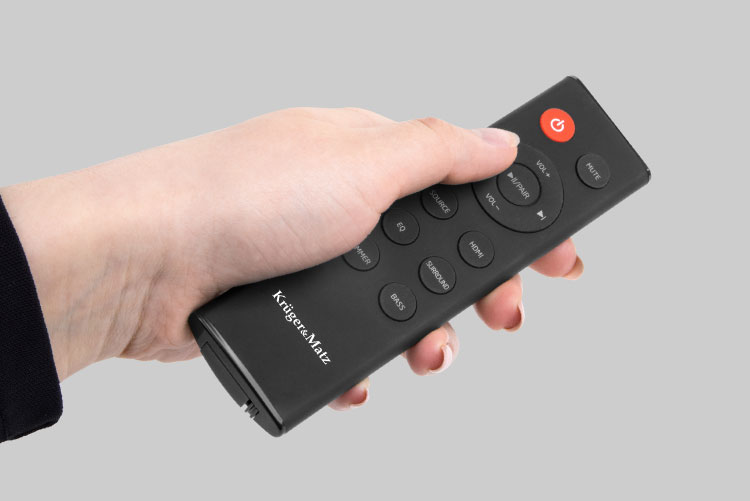 Dla większej wygody
Soundbar Kruger&Matz Odyssey to także duży komfort użytkowania. Do zestawu został dołączony pilot zdalnego sterowania, który pozwoli Ci na kontrolowanie funkcji soundbara, w tym wyboru źródła dźwięku, ustawienia equalizera czy regulacji niskich tonów.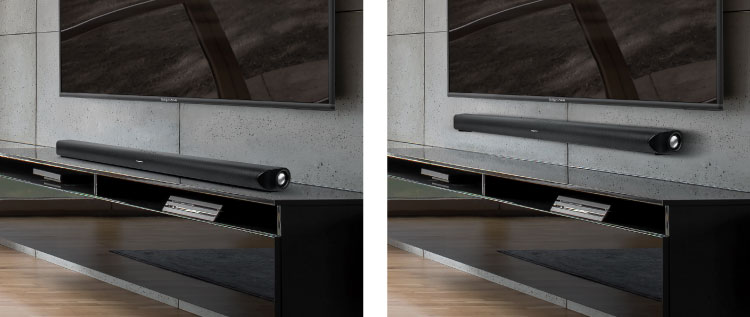 Na dwa sposoby
Nie masz gdzie postawić soundbara, bo Twój telewizor jest zawieszony na ścianie? To nie powód, żeby rezygnować z poprawy jakości dźwięku! Odyssey został zaprojektowany tak, żebyś mógł go również zamontować na ścianie. Wszystkie niezbędne do tego akcesoria są zawarte w zestawie.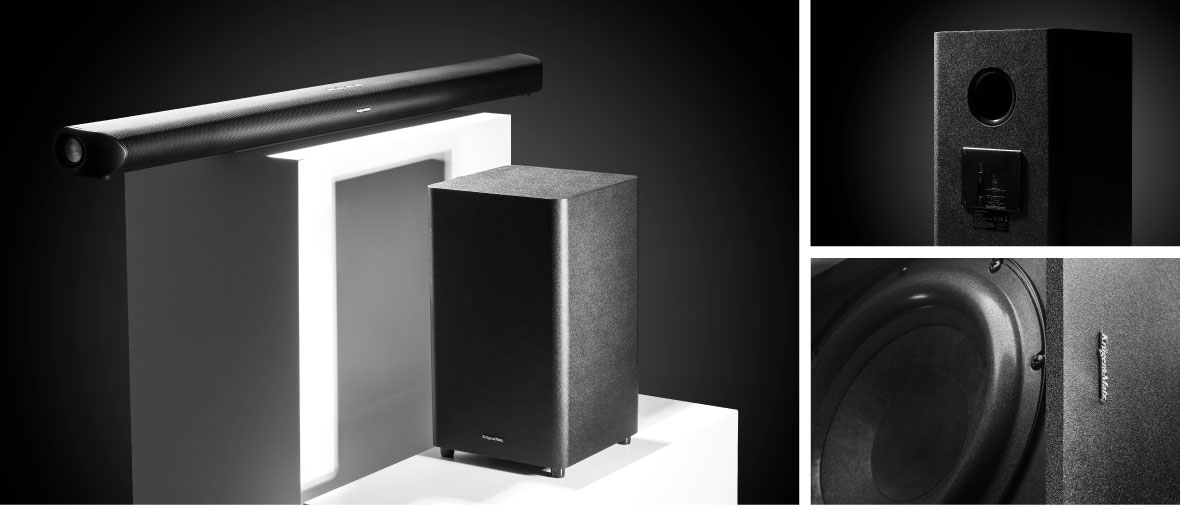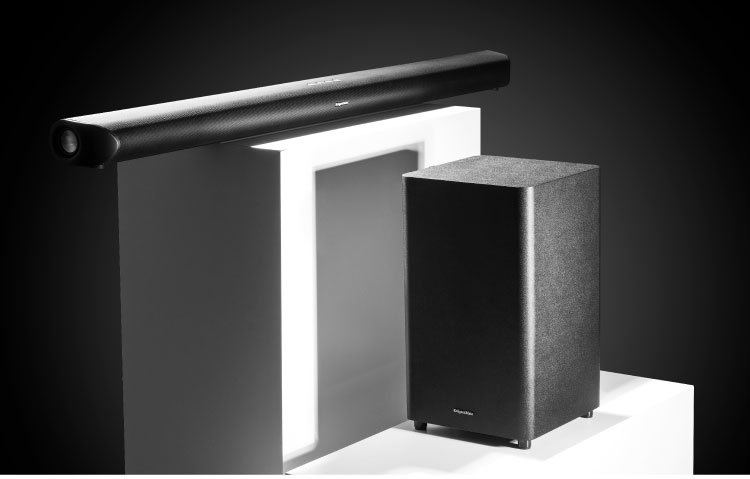 Plik: Instrukcja obsługi DE, EN, FR, NL, PL, RO
Plik: de-en-fr-nl-pl-ro
There is currently no comments or ratings for this product.